Thank you, First Responders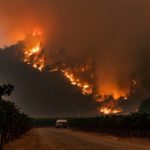 We wish to thank you for the warm messages, and are deeply grateful that our staff and our production team are safe and unharmed. We are just as stunned as the rest of the world to watch the frightfully rapid-paced & intense devastation the Glass & Shady fires wrought. We wish our impacted fellow Napa Valley & Sonoma vintners love and safety in these tumultuous times.
The northern Napa and mid-Sonoma areas are still not out of the woods, however the heroic efforts from first responders that came in from all across California have already saved so, so much for so many weeks; we can only imagine their exhaustion despite their superhuman grit. To that end, the Peter Paul Wines team has donated to the ever vigilant California Fire Foundation to help advance aid to First Responders and their families, as well as those who have lost homes, businesses and items in this tragedy.
If you would like to donate to this cause as well the information about the Foundation, click the link below.